Concert 34, concertante strings, October 2012. A programme of works for string orchestra together with solo ensembles drawn from the orchestra, featuring the world premiere performance of a violin concerto written especially for this concert.
Aaron Kenny, Chernobyl, for solo violin and string orchestra (Alastair Duff-Forbes, violin).
Herbert Howells, Elegy for viola, string quartet and string orchestra (Michelle Urquhart, viola).
Eugène Ysaÿe, Harmonies du soir, Op.31, for string quartet and string orchestra.
Peter Sculthorpe, Port Essington.
Anton Bruckner, Adagio from the String Quintet in F, version for string orchestra.
More information on the music performed at this concert: PS or PDF.
Concert 35, stars and angels, October 2013. British composer William Alwyn's harp concerto was inspired by lines of the 17th century English poet Giles Fletcher: "I looke for angels' songs, and heare Him crie", while Birrung, by Australian Georges Lentz, takes its title from a word meaning "star" in an indigenous language of the Sydney region.
William Alwyn, Concerto for harp and string orchestra Lyra Angelica (Verna Lee, harp).
Georges Lentz, Birrung, for eleven strings.
Samuel Barber, Adagio for Strings.
Benjamin Britten, Prelude and Fugue, Op.29, for eighteen-part string orchestra.
Karel Husa, Pastoral.
Read the programme in PS, 70MB or PDF.
Concert 36, songs from south and north, June 2014. Yet another Bourbaki world premiere performance! Wayne Dixon's settings of Verlaine are contrasted with string music from England and Scandinavia.
Wayne Dixon, Songs of Transience, Op.29, for voice, cor anglais and divided strings (Lotte Latukefu, mezzo-soprano; Rachel Tolmie, cor anglais).
Johan Svendsen, Two Swedish Folk-melodies, Op.27, for string orchestra.
Ole Bull, The Herdgirl's Sunday, harmonised and arranged for strings by Johan Svendsen.
Carl Nielsen, Bøhmisk–Dansk Folketone.
Sir Edward Elgar, Serenade for Strings in E minor, Op.20.
Frederick Delius, Late Swallows, arranged for string orchestra by Eric Fenby.
The concert programme is available as PS or PDF.
Concert 37, meditations for strings, April 2015. The first of three compositions by Peter Sculthorpe to be performed this year, together with Andrew Schultz's haunting lament for "all that has been lost from the face of the earth" and Sibelius' magical suite for strings and percussion.
Peter Sculthorpe, Cello Dreaming, for cello, strings and percussion (John Napier, cello).
Jean Sibelius, Rakastava, Op.14, for strings, timpani and triangle.
Andrew Schultz, Endling, for strings, horns and timpani, Op.72.
Henry Purcell, works for strings: Fantasia, In Nomine, Chacony.
Josef Suk, Meditation on the Old Czech Chorale "St. Wenceslas", Op.35a.
Read about General Bourbaki and "Jean le Long-d'Argent": PS or PDF.
Concert 38, many moods for strings, August 2015. A programme of diverse moods, ranging from the nonchalance of the Honegger Concerto, through the romanticism of Arensky and the operatism (is that a word?) of Puccini, to Sculthorpe's impassioned, sometimes perhaps angry, plea for the environment.
Peter Sculthorpe, From Ubirr.
Arthur Honegger, Concerto da Camera for flute, cor anglais and strings (Christine Draeger, flute; Rachel Tolmie, cor anglais).
Anton Arensky, Variations on a Theme of Tchaikovsky, Op.35a.
Giacomo Puccini, Crisantemi.
Henry Cowell, Hymns and Fuguing Tunes No.5 and No.10 (Rachel Tolmie, oboe).
Priaulx Rainier, Movement for String Orchestra.
The concert programme is available in PS or PDF.
Concert 39, music for brass and strings, December 2015. Soloists Brian Evans and Greg van der Struik give the world premiere performance of Greg's Concertino for trumpet, trombone and string orchestra. The Ensemble contributes an orchestral arrangement of Shostakovich's tenth string quartet and a selection of shorter works.
Peter Sculthorpe, Morning-Song.
Brooke Green, Graceful Ghost.
Greg van der Struik, Concertino for trumpet, trombone and strings (Brian Evans, trumpet; Greg van der Struik, trombone).
Dmitri Shostakovich, Chamber Symphony, Op.118a.
Thea Musgrave, Aurora.
Erik Satie, Gymnopédie No.3.
More on General Bourbaki's infatuation with the ophicleide: PS or PDF.
Concert 40, in memoriam: music for horns and strings, March 2016. Britten's spine-tingling tribute to the great horn virtuoso Dennis Brain; then more works involving horns and further memorial works. The slow movement of Elgar's string quartet (heard here in a version for string orchestra) was a particular favourite of the composer's wife, and was played at her funeral.
Sir Edward Elgar, String Quartet in E minor, Op.83, arranged for string orchestra by David Matthews.
Benjamin Britten, In Memoriam Dennis Brain, for four horns, bells and strings.
Arvo Pärt, Cantus in memoriam Benjamin Britten, for strings and bell.
Percy Grainger, Irish Tune from County Derry.
Michael Haydn, Concerto for Two Horns (Neil O'Donnell, Natasha Roumanoff, horns).
Brooke Green, Perfumed with Blood.
The concert programme is available in PS or PDF.
Concert 41, lines at infinity, December 2016. The world premiere of Chris Williams' wonderful new work Lines at Infinity, commissioned for this concert by the Bourbaki Ensemble. Also, further "lines" by Edward Primrose. We welcome outstanding young oboist Niamh Dell to perform Vaughan Williams' magnificent concerto.
Ralph Vaughan Williams, Oboe Concerto (Niamh Dell, oboe).
Jean Sibelius, Impromptu for String Orchestra.
George Dyson, Concerto da Chiesa.
Chris Williams, Lines at Infinity.
Gerald Finzi, Romance, Op.11, for string orchestra.
Edward Primrose, Entre les lignes.
Vital information about General Bourbaki and géométrie projective: PS or PDF.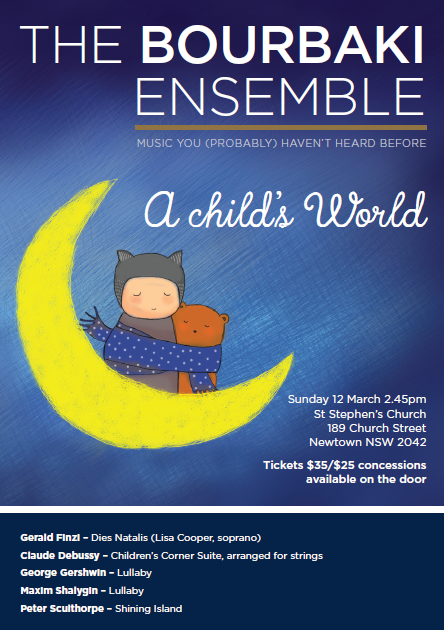 Concert 42, a child's world, March 2017. A concert featuring Gerald Finzi's radiant and wondrous setting of words by Thomas Traherne, describing the world through the eyes of a young child, and Debussy's entertainment for his beloved daughter Chouchou, presented in a new arrangement by David Angell. There are also two lullabies, and Peter Sculthorpe's tribute to his late friend Henryk Górecki.
Gerald Finzi, Dies Natalis, cantata for soprano solo and string orchestra (Lisa Cooper, soprano).
Claude Debussy, Children's Corner Suite, arranged for strings.
George Gershwin, Lullaby.
Maxim Shalygin, Lullaby.
Peter Sculthorpe, Shining Island.